On-site personalization with BNPL
Summary
Objective: Increase same session conversions by new & return visitors and decrease cart abandonment
Targeted Audience: Any shopper that shows exit behavior
Adjustable Options: Reviews showcased, CTA, pop up position on site, conditions to trigger, targeting specific product purchased, time frame from last purchase
Implementation Time: 10-15 min
Must Haves: Justuno account, Sezzle account, Return Customers
Implementation Steps
1. Go to the Sezzle Partner view and add this workflow to your account: Reduce Cart Abandonment With Sezzle.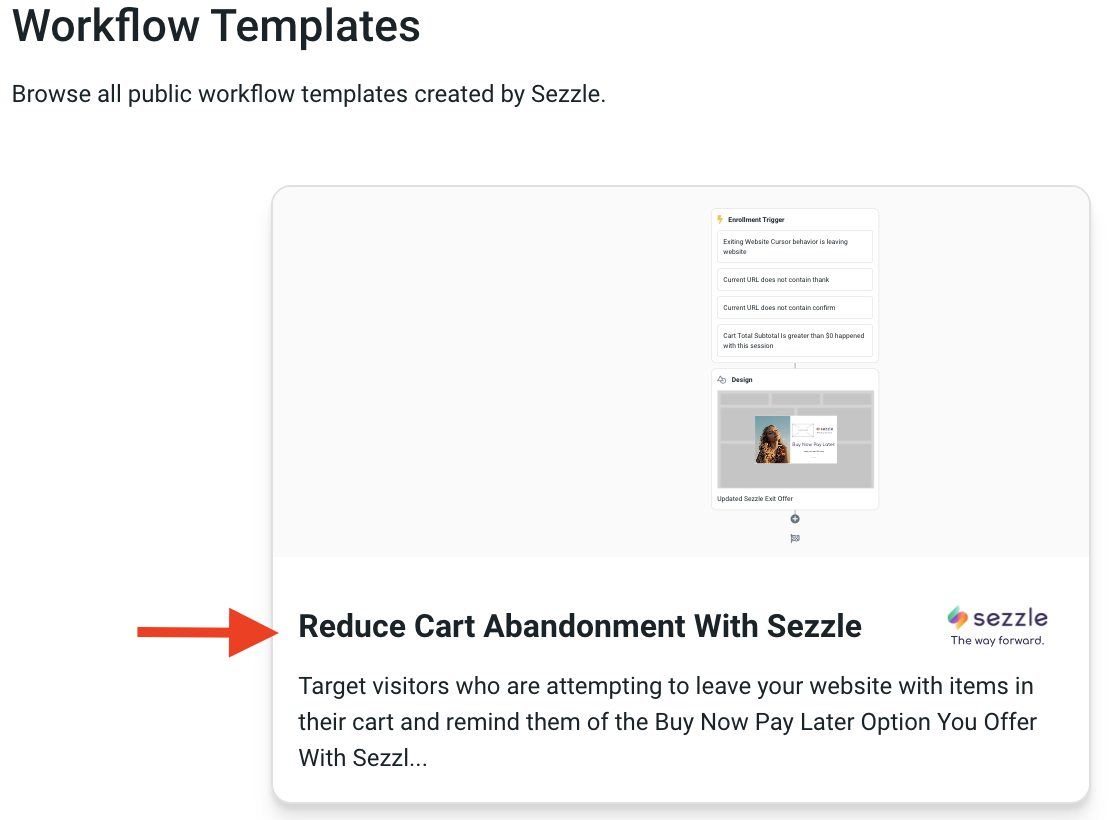 2. Once the Workflow is added to your account - you can click on the Enrollment Trigger tile to update the Enrollment Trigger to fit your targeting needs or leave it as is. The use case suggests that the following conditions be used to start targeting a broader audience.
a. Target a visitor that is exiting your site, they are not on your thank you or confirmation, and they cart subtotal is greater than $0 during the current session.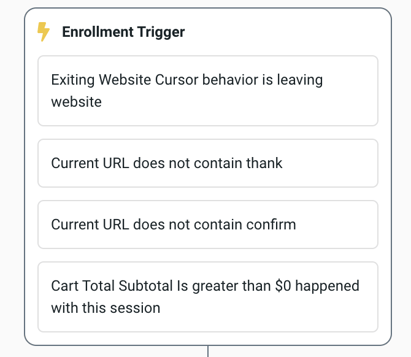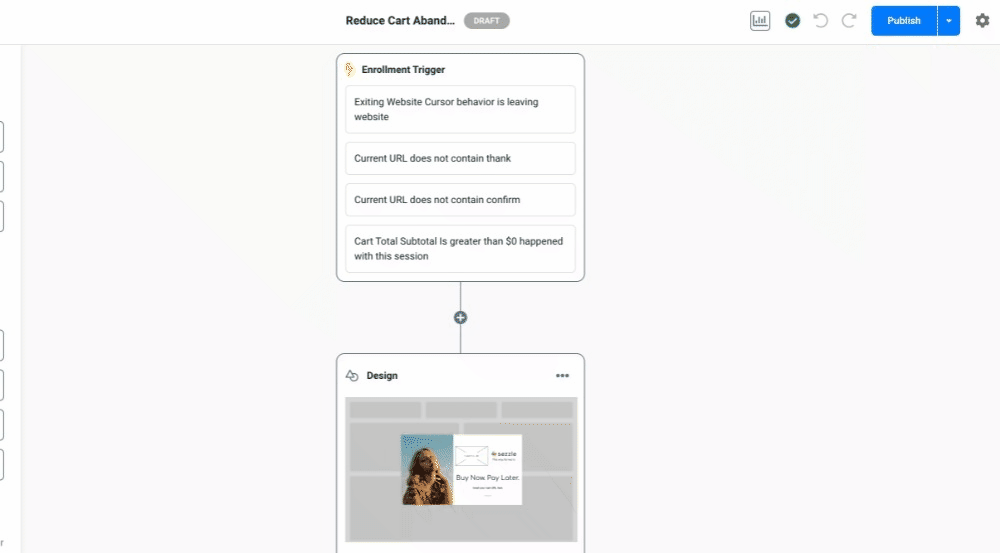 3. Design Updates
a. Click on the Design tile to update the design template to fit your brand look and voice.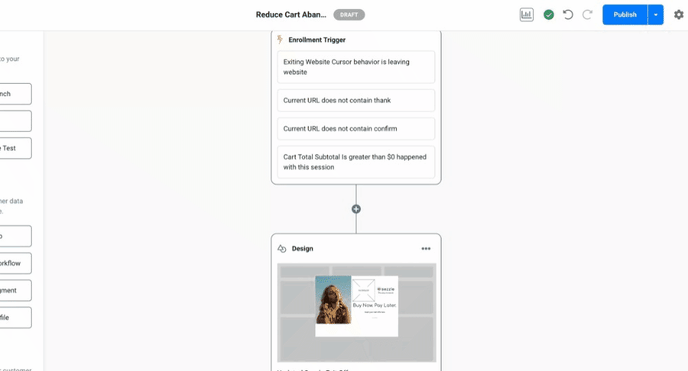 b. Update the CTA Click Actions under Settings by linking to the corresponding URL like cart page for this workflow. We advise having this CTA take someone to their cart to use Sezzle.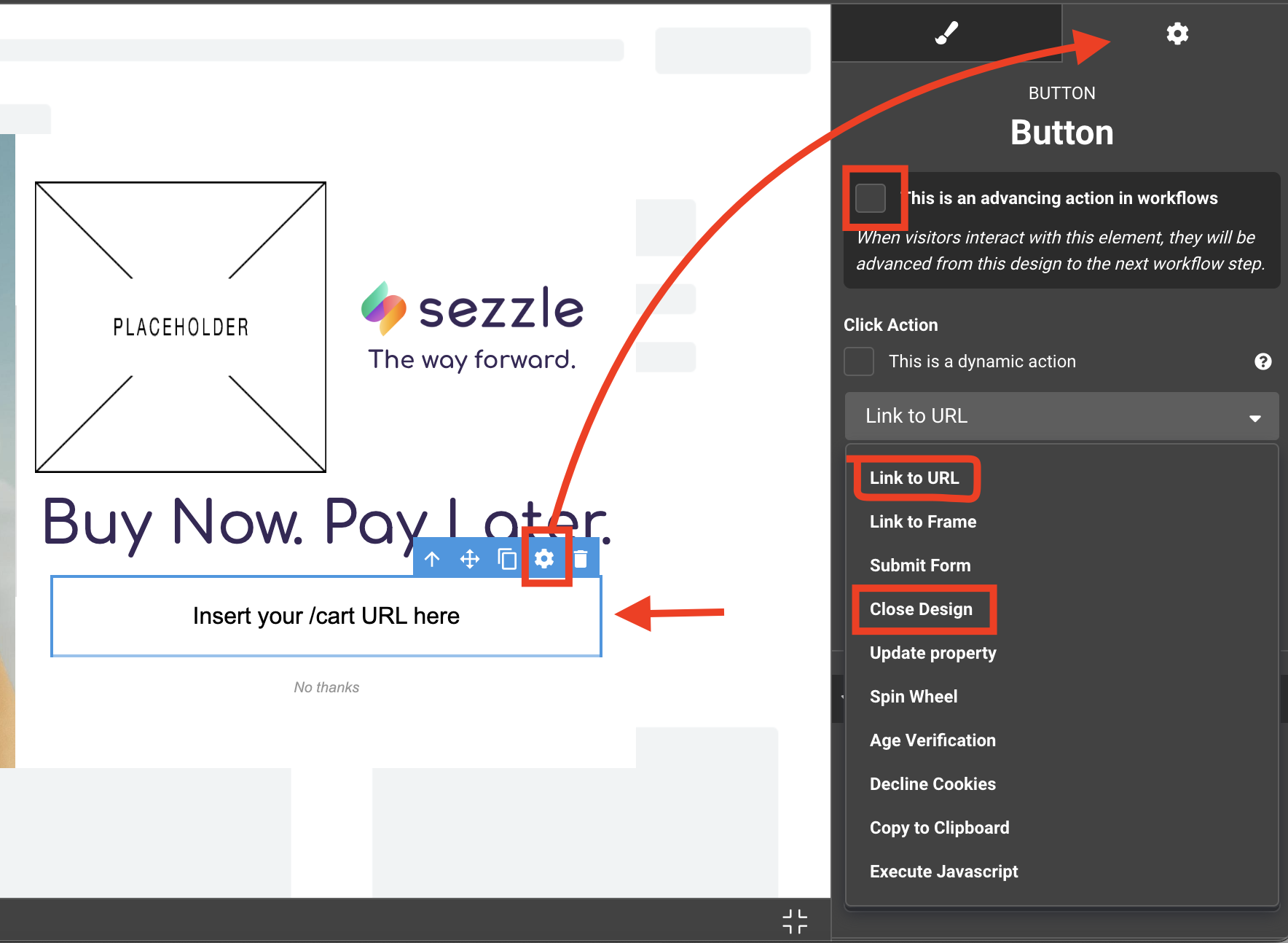 3. Review preview of design to ensure all layers are working as intended
a. Live Test - Set up a workflow with the enrollment trigger set to "current URL contains #testingpopup". Publish this workflow and head to your site incognito. Type in your domain and add in the extension you created in the workflow.
Example: yourcooldomain.com/#testingpopup. Refresh the page and you'll see your design once you attempt to exit that specific page.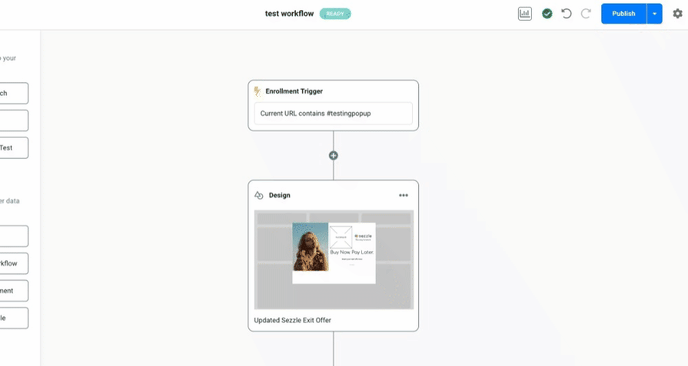 4. Publish - Once you've tested on your test URL you can Publish the real workflow on site and engage with the final product - Click Publish in the upper, right-hand corner of the workflow and select Activate on the pop up screen.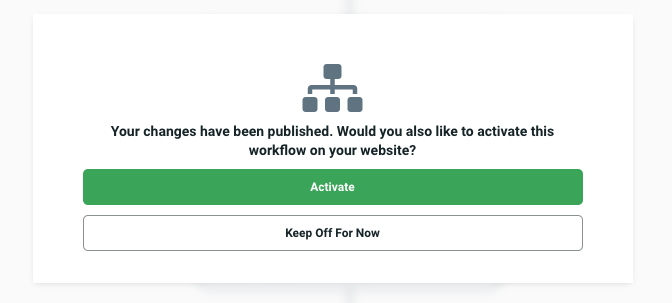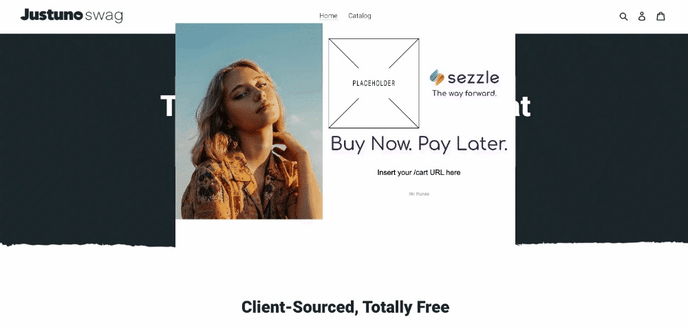 ---
Additional Strategy Instruction
Set a calendar reminder for 30 days out to review workflow data (engagement, impressions, conversion rate, etc.) and make adjustments. Or book time with a strategist to review the performance together. You can view workflow data by enabling the analytics toggle from within the workflow.

Think about how you want to segment anyone that engages with the pop up or CTA and then create a segment that can be retargeted in other workflows.
---
Workflow Assessment & Optimization
Once you have successfully published your workflow, here are our tips on what to add to this workflow using Justuno features.
Add each visitor that clicks on a CTA to a audience segment for future re-targeting in workflows. They can be your "BNPL engaged" segment. Learn more about Justuno segments here.
Test out different messaging and images for different shopper segments like paid, new, return, or influencer traffic
Expected influenced KPIs - time on site, conversion rate, & bounce rate
---
Materials & Resources
Instructional Materials: Justuno Office Hours (group format with QA)
2. Resources: Sezzle Partner Page