This article will cover the integration of Postscript with Justuno.
On this page:
---
Introduction
Postscript is a messaging platform that enables companies to deliver highly personalized and targeted messages directly to customers' mobile devices. Through Postscript, users can easily create and automate SMS campaigns, ensuring the right message reaches the right person at the right time.
Integrating Justuno and Postscript synchronizes' the business' efforts across the two platforms and helps them reap the joint benefits of both platforms. The customer data collected from Justuno can be used by Postscript to run SMS campaigns tailored to the customers' needs and interests, significantly improving the chances of conversion. Analytics from Justuno also help in understanding the effectiveness of campaigns and give other valuable insights.
The integration of Postscript and Justuno can help businesses unlock their full potential and drive revenue growth.
If you have any questions about this integration, contact our support team via ticket or your Justuno Strategist via email for further direction or full set up.
Using Postscript in a Workflow: Step-by-Step
1. Grab your private API key from Postscript. Then you have to login to your Justuno account and go to the Apps section. Search for Postscript in the Available Apps and click on it.
2. Postscript pop-up will appear. Select New Authentication, enter your Postscript private API key, wait for the account connection confirmation pop-up and click Finish.
Note: BEFORE setting up the integration, please ensure your Postscript account has API access for custom integrations. For more information on how to do this, reach out to a Postscript representative or your Justuno Strategist. Information on locating that key can be found here under the Shops section.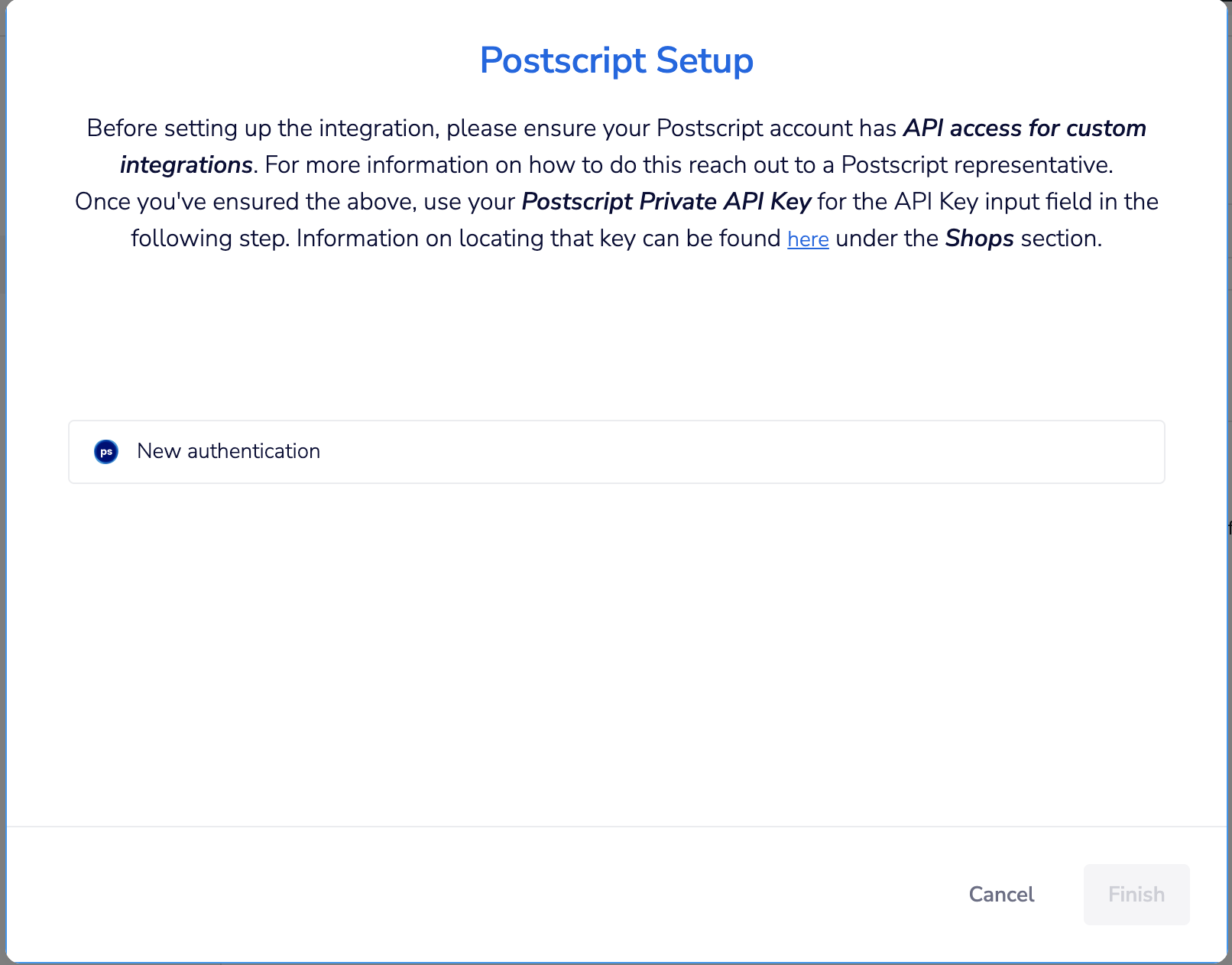 3. Once Postscript has been connected to your Justuno account you can begin using it in your workflows. You can simply use a workflow template or create your own workflow (to know more about Justuno workflows click here.)
4. In the design step of the workflow, select the Sync to App option. In the side menu, find the Postscript app and click on Add.
5. Once you add the app, you can
Choose which of your existing Postscript keywords you want to sync to this workflow.
See select properties which will automatically sync to Postscript.
Custom sync properties from your Justuno design to the properties in your Postscript app. (example: social handles, birthday, shopping preferences, survey/quiz responses, etc.). These properties are considered 0 party data or 1st party data. Learn more about visitor data collection and how to use this data in campaigns.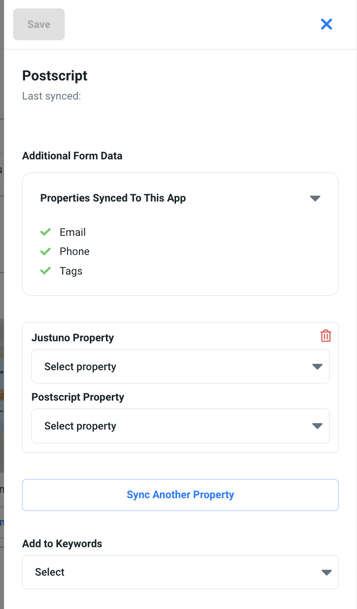 6. Once your workflow is created it can be saved, previewed or published.
---
Data Transacted
The customer data sent from Justuno to Postscript contains:
User data, like your user first and last name, user phone number, email address and address
User subscription data, for example if or not they have chosen to receive marketing communication and which medium they have chosen for communication
Campaign data, such as the campaign name, conversion data, campaign engagement metrics, which includes impressions, time spent, bounce rate, and campaign analytics
User event data, which includes the type of the event, like sign up, abandon cart, unsubscribe and others, event timestamp, i.e. the time of the event, and event parameters, for example the purchase amount, any discounts or promotions applied, the device is use and others
Personalization data like user preferences, behavior data and segmentation data
Learn more from the experts about different zero & first party data to capture and use from our ebook.
General Notes
When moving towards connecting your Postscript account with your Justuno account, it is important to note these basic points:
A pending subscriber is a customer who filled his phone number, got a message to "reply Y to subscribe" text to confirm their opt-in, but has not confirmed, yet. Postscript deletes any pending subscribers after 7 days
When asking site visitors for phone numbers for SMS, ensure that you adhere to the SMS Compliance Language Requirements and the Updated Opt-In Policies. These requirements make sure that the messages are transparent and compliant with the relevant laws and regulations and save you from customer privacy troubles. More details can be found in Justuno article on New Opt-in Policies here and in the Postscript article on Set Up Your Justuno Integration here.