This article will cover the integration of Mailchimp with Justuno.
On this page
Introduction: Integration Benefits

Using Mailchimp in a Workflow

Data Transacted

General Notes
---
Introduction
Mailchimp is an email marketing platform handling email campaigns along with providing customizable templates, pre-built content blocks, and marketing automation allowing users to create customer journeys personalized to each customer via email. Mailchimp also offers social media management, ad campaign management, audience management, and other features, aiming to be a one-stop solution for small businesses and entrepreneurs.
Integrating Mailchimp with Justuno will help users gather additional data about their audience and consequently generate a more personalized experience for your website visitors.
If you have any questions about this integration, contact our support team via ticket or your Justuno Strategist via email for further direction or full set up.
Integrating Mailchimp & Using Mailchimp in a Workflow: Step-by-Step
1. To integrate your Mailchimp with Justuno V4, go to the Apps section, search for Mailchimp and click on it.
2. Keep your Mailchimp credentials ready, because once you click on New Authentication you will be redirected to Mailchimp login.
3. Enter your Mailchimp login info, select your account and click on allow.
3. Your authentication will be successfully created and Mailchimp will be added to your My Apps section.
4. Mailchimp is now ready to be incorporated into workflows! You can start by using a workflow template or create your own workflow (to know more about workflows click here.)

5. In the design step of the workflow, select the Sync to App option. In the side menu, find the Mailchimp app and click on Add.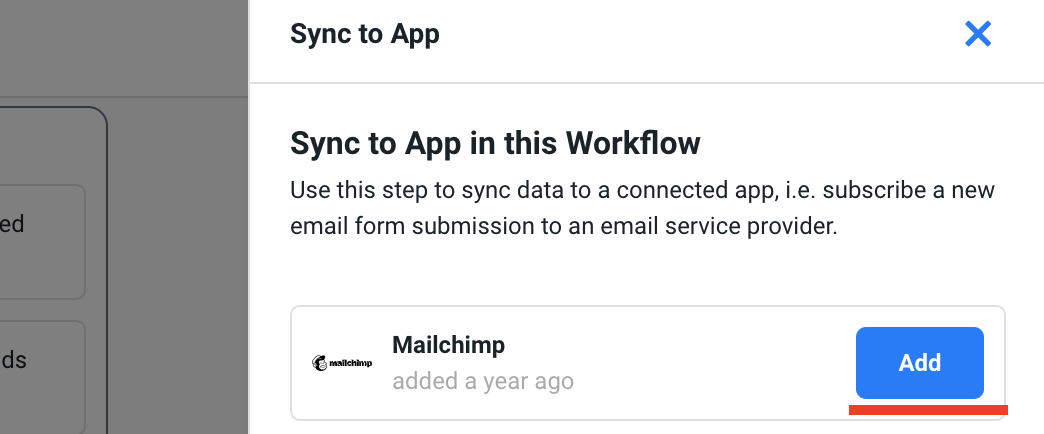 11. Once you add the app, you can
Choose which of your existing Mailchimp lists you want to sync to this workflow.
See select properties which will automatically sync to Mailchimp.
Custom sync properties from your Justuno design to the properties in your Mailchimp app. (example: social handles, birthday, shopping preferences, survey/quiz responses, etc.). These properties are considered 0 party data or 1st party data. Learn more about visitor data collection and how to use this data in campaigns.
12. Once your workflow is created it can be saved, previewed or published from the top, right corner of the workflow builder.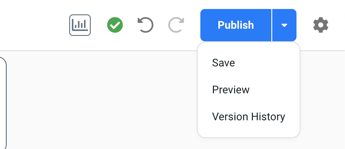 ---
Data transacted
The customer data sent from Justuno to Mailchimp contains:
Apart from email address and basic profile data of website visitors, like demographic information and contact details, Justuno transfers segmentation data and visitor marketing inputs to Mailchimp. This collection of information can help you generate more targeted and personalized emails to your customers, which makes marketing more accurate for you and in turn contributes to generating more revenue.
User data, like your user first and last name, user phone number, email address and address
User subscription data, for example if or not they have chosen to receive marketing communication and which medium they have chosen for communication
Campaign data, such as the campaign name, conversion data, campaign engagement metrics, which includes impressions, time spent, bounce rate, and campaign analytics
User event data, which includes the type of the event, like sign up, abandon cart, unsubscribe and others, event timestamp, i.e. the time of the event, and event parameters, for example the purchase amount, any discounts or promotions applied, the device is use and others
Personalization data like user preferences, behavior data and segmentation data
Learn more from the experts about different zero & first party data to capture and use from our ebook.
General notes
Mailchimp only takes profiles which include email addresses from Justuno. Profiles without email addresses are not pushed forward to Mailchimp. Mailchimp integration with Justuno requires the email field, but it is possible to send other information to Mailchimp once you have an email to associate with the send.
Integration with Mailchimp is a one way sync. This means that website visitor information is only transacted to Mailchimp from Justuno. Justuno does not pull any information from Mailchimp.