Browse workflows, onsite designs, and partner templates to easily edit and publish your campaigns faster.
At a glance:
Introduction
Last update 04/06/2022
Introduction
---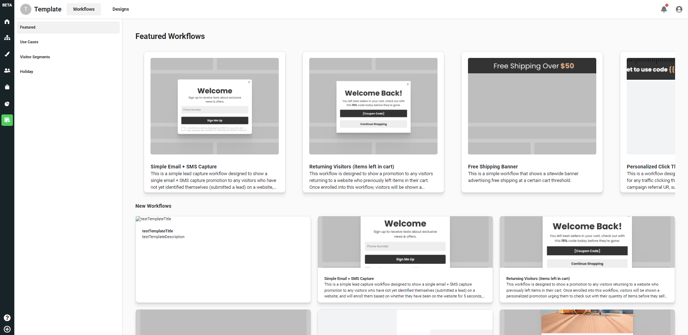 The new Templates section offers pre-built templates for Workflows and Promotions to help you get started with your next promotion. You can find templates for email lead captures, SMS captures, Free Shipping banners, and much more.
Walkthrough
---

Workflows
These are prebuilt Workflow templates that can help you quickly set up the audience to target. To use, hover over the image of the Workflow you choose and click "Add to Dashboard." This will bring you to the Workflow builder so that you can customize it. You can build off of these existing templates to tweak the flow how you see fit. Save or Publish the Workflow in the top right corner.
Featured
Use Cases
Visitor Segments
Holiday
Visit Justuno @justuno.com