The Justuno account section is your hub to edit account settings, including adding new websites, adding new users, and managing your billing settings.
At a glance:

Profile
Team
Billing
Advanced Settings
Embed Code
Last update 04/28/2022
Account
---
An overview of all of the Justuno accounts that you manage.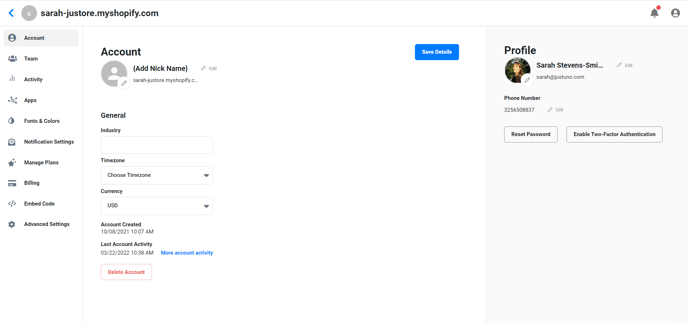 Account and Profile: This section outlines the details of your website that are connected to Justuno such as URL, website name, industry, and currency. This is where you will be able to find details such as name, first and last name, email, and phone number. Click edit to update your Profile information.
Team
---
In the team area, you will be able to manage access to your account. You can add new members and collaborators with variable levels of account access.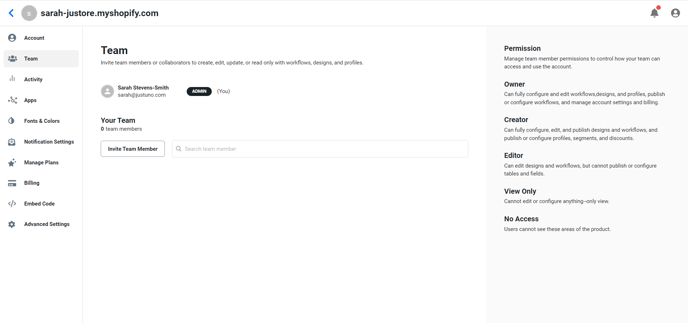 Features:

New Team member - Here you can add team members who can be granted varying levels of access. These team members are granted access on a per-website basis.

Add Collaborator - Here you can add a collaborator, these can also be granted varying levels of access, this user type is generally utilized for users who only need access for a limited amount of time or for consulting work.

User Settings:
Profile - Here you can update your user's name, email address, and phone number.
User Activity - *Nothing there yet*
Reset Password - You can use this option to reset a user's password.
Activity
---
All user activity in this website account by both team members and collaborators.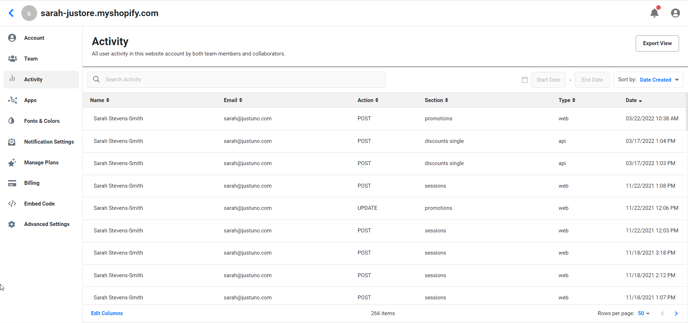 Apps
---
Third-party integrations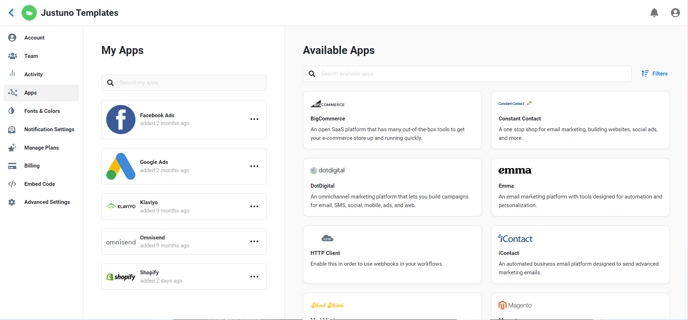 Fonts and Colors
---
Where various assets such as brand colors, logos, and fonts are uploaded and stored for automatic use in your onsite designs for a quicker turnaround.

Features: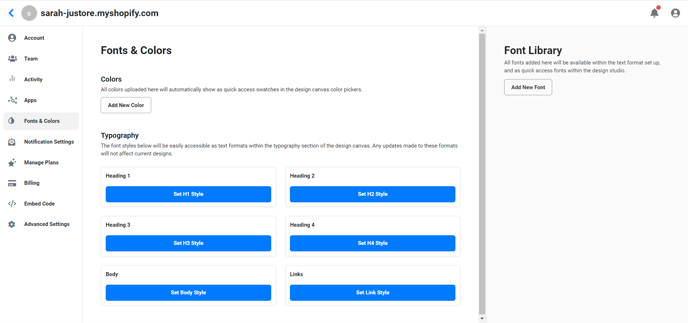 Colors - A pre-defined color palette of your brand colors that automatically assigns a color to elements when you create your onsite designs.
Typography - Define the color you would like to be automatically applied to all of the text in the text boxes in your onsite designs.
Fonts - Set your brand fonts in your brand kit to be automatically applied in your onsite designs.
Heading 1, 2, 3, 4 - The font that will automatically be applied to H1, H2, H3 and H4 text blocks.
Body - The font that will automatically be applied to all text blocks marked as paragraphs.
Links - Manage the link style
Font Library - Add custom fonts in this section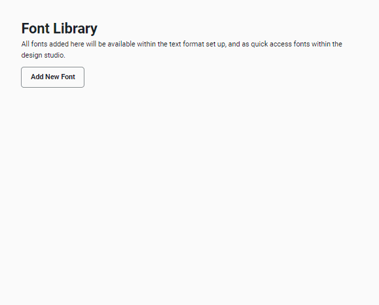 Notification Settings
---
Here we can set the frequency that notifications about your account are sent to your email.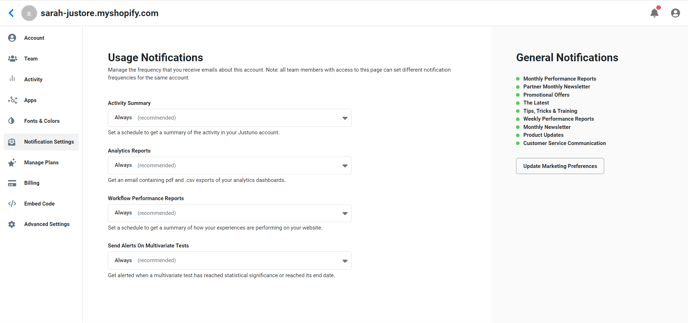 Manage Plans
---
This section allows us to manage the plans your account is on.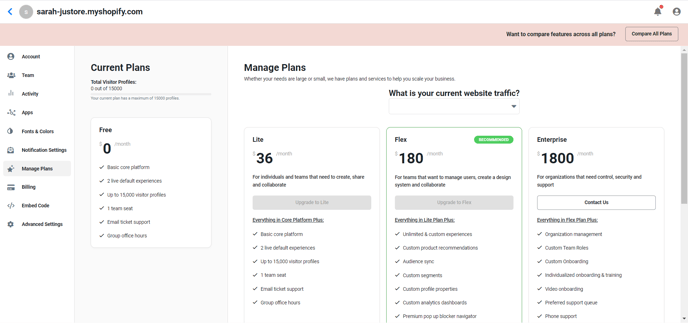 Billing
---
In the billing section, you will be able to manage payment methods on file as well as access previous payment details and invoices.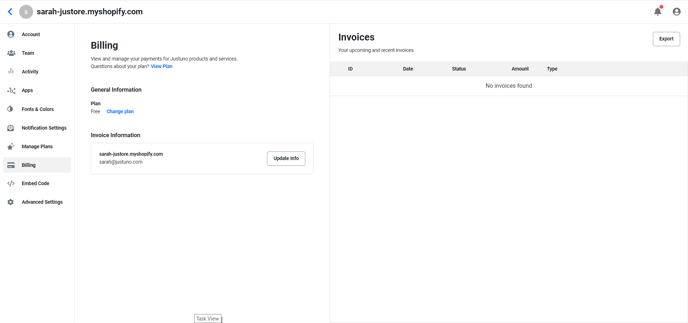 Embed Code
---
A string of code to add on certain pages of your website for Justuno to collect and report data.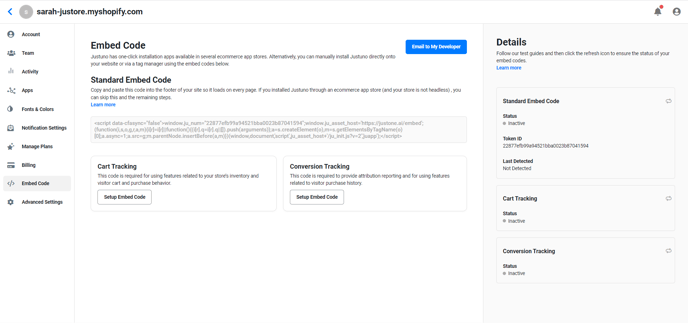 Cart Tracking - To track the activity in a visitor's cart add this code to the conversion page of your site. This code is located in the embed code section of your Account Information.
Conversion Tracking - This script goes on the "Post Purchase Thank You/Order Confirmation Page" to track conversions. You can optionally add this code to your conversion page to enable conversion tracking. The embed code above is also still required on the conversion page. Add this code to the conversion page of your site
Advanced Settings
---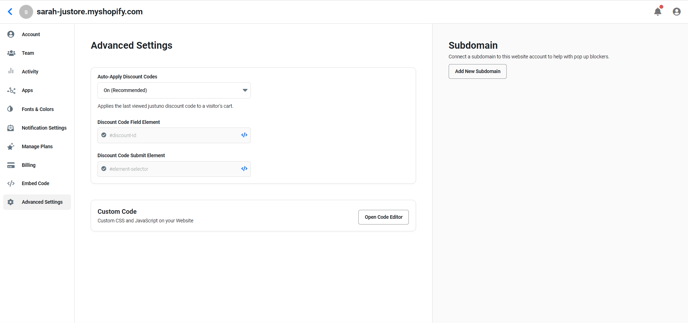 Subdomain
- Here you can connect a subdomain to your Justuno account
Custom Code - A section to place code that you would like to take effect site-wide. Ex. if there is custom code for all tabs on the site, instead of individually adding the code to each, you can place it here.
Discounts - Discount codes within your store for use in your workflow or use our automated product recommendations.
Fixed Discount Codes - Coupons that can be used multiple times by multiple shoppers until the coupon has expired. For example, if you are having a 4th of July sale for 20% off you might use JULY20 as your coupon code.
Unique discount codes- A single-use coupon that is generated in your e-commerce platform using a unique string of alphanumeric characters for easier tracking. (Sync is the only one that syncs with the platform other two are manual). If the platform has 2-way sync you don't have to manually add code into your platform.
Visit Justuno @justuno.com